My Background with this Game:
After briefly scanning the other reviews for this game thus far, I realized I simply had to review it, if nothing more than to provide a better insight into why this game is timeless. Yes, timeless. I know there are some out there who care first and foremost about graphics. And if that's you, then stop reading. Seriously, you won't enjoy this game, and it's simply because the graphics are not cutting edge, graphics card accelerated masterpieces of technology. For you, there are plenty of other games out there. And don't get me wrong, I have nothing against such graphics. I just happen to appreciate great games, regardless of what level of graphics they have. And besides, I like the graphics of this game. In fact, for me, it's a part of the charm for this game. Now, on to the actual game, beginning with a brief overview of my own background with this one.
I first played this game way back in the fourth grade. It's hard to believe it was so long ago. In those days, my computer was a non-standard, custom PC built by a freelancer, and it operated exclusively on DOS. If you don't know what DOS is, then this is long before your time. If you do, then you know it had its own unique issues, though it never crashed so consistently as the windows operating systems. And games, well, PC games anyway, they were still al relatively small industry compared with today's games. Not that there weren't some great games to be found on PCs, even some great text-based adventure games, such as Beyond Zork. And during this time, a type of game had its heyday that now is all but extinct—the adventure game. Among adventure games during this time period came The Secret of Monkey Island, and a classic was born. I cannot possibly recount how many hours I spent, alone and with friends, exploring this game, laughing at the ridiculous humor and the charmed by the odd and bizarre tale and the gritty graphics. In the same vein as another classic, Maniac Mansion, this one, for me at least, has a longer life. Not that I didn't enjoy Maniac Mansion, but this one hit on every level for me, and created one I can still return to today and find enjoyable.
Plot:
While I could explicate the entire plot of the game here and now, I won't. For one, this section would be very, very long, as there are many twists and turns to the story. But also, as with most adventure games, watching the story unfold as you explore and as you overcome puzzles is part of the fun. So I will be brief here, and save the story for your experience. In brief, then, you are Guybrush Threepwood. You want to be a pirate. But to do so, you must seek out the Pirate Leaders in the SCUMM Bar. You learn you must pass three tests. As you explore and attempt to complete these tasks, you encounter the ghost pirate LeChuck, the governor Marley, and will ultimately find yourself on Monkey Island, attempting to save Governor Marley. There is much more to it than this, I promise, but as I said, part of the fun here is in watching the plot unfold. So I will keep this section short, and move on to a more important section for this review, the Gameplay.
Gameplay:
The Basics
Anyone familiar with adventure games could tell you that the gaming interface is very simple, and compared to many gaming consoles today or even PC games today, I'd modify that and say ridiculously simple. As you begin the game, you have a simple pointer controlled by the mouse. You interact with the game entirely with point and click interfacing. As this is not an RPG or strategy game, and you have no hit points, attack, defense or stats of any kind. Below the main screen where you see your character you have a three column list of action/verb options. They allow you to interact with your environment. Curiosity plays a large role in this game. Explore everything in your environment. You can pick up items, break them, combine them, open and close objects, talk to people, any number of things. As you make your way down the lookout point and into the Scumm Bar, you'll begin your quest to become a pirate, and begin to accumulate items. This does not end until the end of the game. So really, your gameplay is very simple interaction and much of it relies on your ability to solve strange and bizarre puzzles at times. The game doesn't always tell you where to go, although that often can be fairly obvious. And so, there you have it, the basics of the gameplay. Not much to it, really, is there? So just what makes this game so timeless, so classic? Such a discussion inevitably includes an explanation, and you'll find those below, in my Favorite Features section.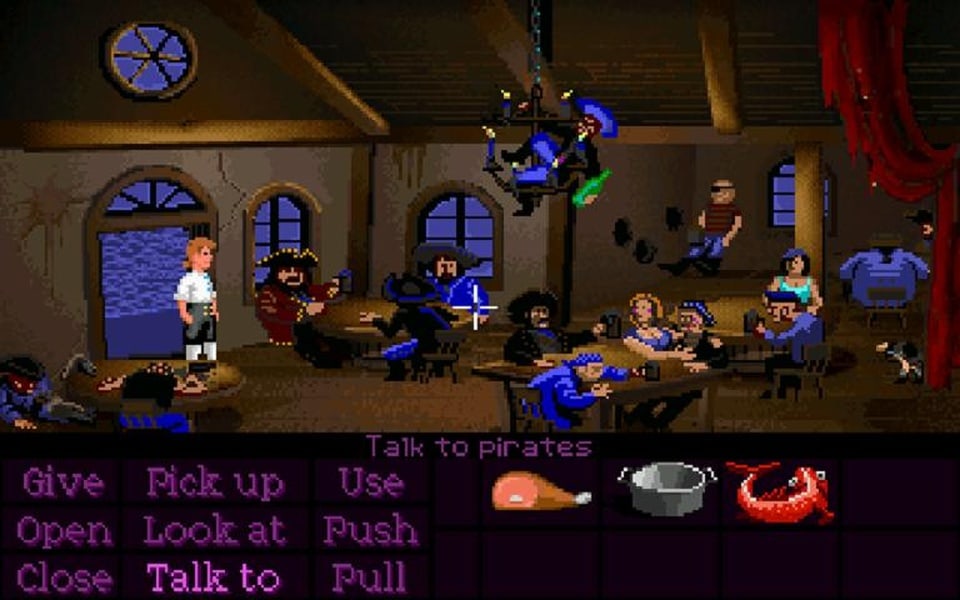 Features
Graphics:
As I mentioned above, the graphics in this game are far from being cutting edge. In their day, perhaps they were around average for games, but they very quickly became dated. So we are not dealing with a game that relies on graphics for its main draw. Still, there's something…something about the graphics that is charming. They're gritty, they're a bit dark, yet not cartoonish. I stress not cartoonish. After the sequel, the graphics take a turn for the worst, and I no longer enjoyed the series so much. The designers of the game left to another company, and the replacements decided to change the feel of the game, make them more cartoonish and Disneyesque. They still give me shivers to this day. But the original game and sequel, I love it. They really set the mood of the game, and for me, without them, the game just doesn't feel right.
Obstacles and Puzzles:
The obstacles in this game often take the form of puzzles, but there are a few other obstacles and situations that add, well, often an element of comedy to the game. At one point early on, you must learn to swordfight. I know, I said this is not an RPG, and so it's not. You must swordfight by exchanging insults. You are woefully unlearned when you begin, and only over time do you learn enough to defeat the master swordsman. There are many such obstacles in your path, and these only add to the charm for me.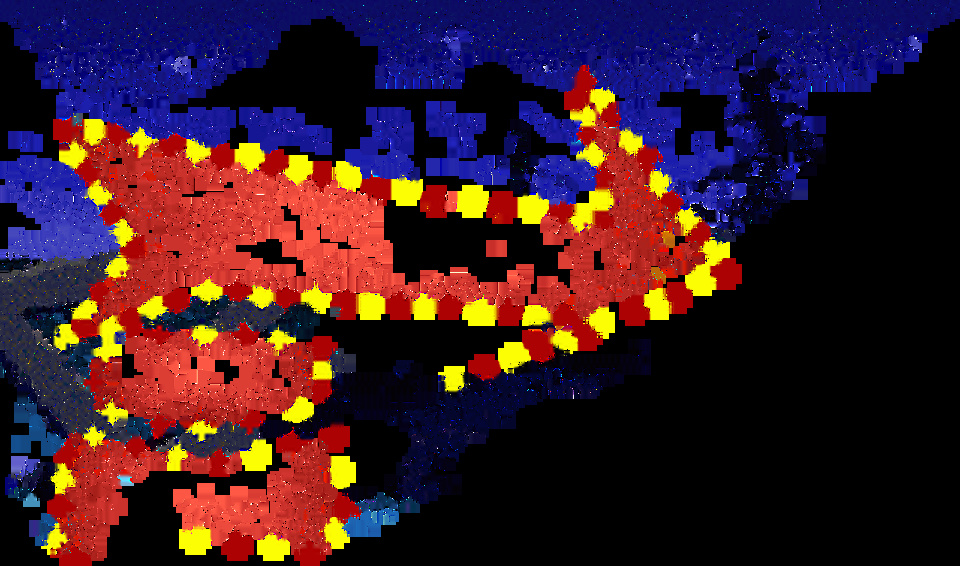 And then you have the puzzles. Many games have these. This one is hardly the first, especially for adventure games. Another well-known series utilizes the puzzle exploration to perfection, even if I'm not a huge fan; that is, the Myst series. But the puzzles in this one are designed to be both bizarre and hilarious. I'll use an early example in the game, and hope I don't ruin too much with spoilers here. At one point, you're faced with crossing a ravine. There's a long zip-line across it, but no way to use the line. No wheel or pulley system is in place. How do you cross? The ingenious solution in the game:
use a chicken pulley to zip across 
There are many, many such puzzles and obstacles, from fulfilling a recipe to unlock the path to Monkey Island to breaking into Governor Marley's mansion. All of them have some element of the bizarre and comedy about them. All of them add to the amusement of the game.
But in all these obstacles, you will never die, not once. You will not have to restart the game, not once. This was a philosophical decision on the part of Lucas Arts, the production company. They wanted to create games that did not involve forced restarts and many, many deaths in the game, but rather, allow the gamer to take their time experiencing and enjoying the game. In many ways, this philosophy is a forerunner for such games as the Animal Crossing series, though in those games, there is no way to win. In this one, you are essentially taking part in a bizarre and hilarious interactive story. There really are not multiple solutions to problems in the game. There is often only one, but that one you have to figure out for yourself. With this first game, the puzzles are not so devious as to be frustrating. In the sequel, the puzzles do become a bit harder. Not impossible; I know, I have beaten both games, but certainly a step harder than in this first of the series.
Conclusion
That really is all there is to the gameplay. The game is all about storytelling, comedy and puzzles, with a somewhat linear sequence through the game. But that's what this genre is built for. And this game does it remarkably well. I would highly recommend this game. You will not regret obtaining it, not in the list. As I mentioned about, the series does go beyond the first two, and for some, they don't mind the cartoonish graphics. But not for me. No, to me, if you want to experience this game, at least start with this original and try the sequel next. You won't be disappointed.